District Capitole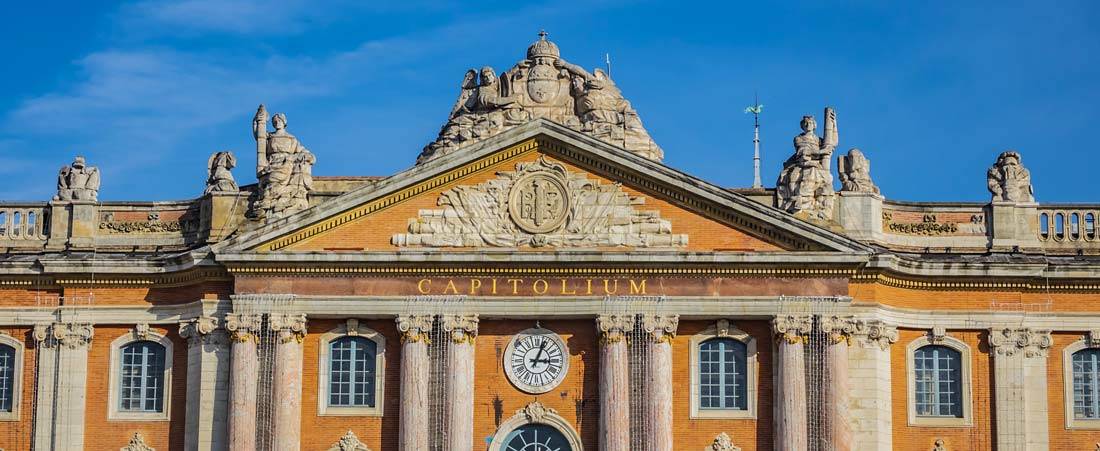 History of the Capitole district
The Capitole district refers to the area to the south and west of the legendary Place du Capitole in the listed historic center of Toulouse. It is bounded by the course of the Garonne to the west, by the rue d'Alsace-Lorraine to the east, by the rue Pargaminières to the north and by the rue de Metz to the south. Emblematic of Toulouse, the Capitol Palace was created on the initiative of the capitouls in the 12th century, with the aim of accommodating the municipal power. The current building dates from the 17th century and houses the Town Hall and the Capitol Theater. Because the site has brought together municipal powers since the 12th century, around the Capitol have built many mansions and important religious buildings. After 8 centuries of construction, on the edge of the Garonne, the district has remained the beating heart of the city: a sector with a strong tourist vocation.
The essentials of the Capitole district
The neoclassical Capitol Palace is an emblematic jewel of the Pink City, whose interiors contain magnificent frescoes, especially in the Hall of the Illustrious. The vast Place du Capitole has been adorned since 1995 with the Occitan star created by Raymond Moretti. We owe the painted ceilings of the arcades of the building facing the Capitol to the same artist: the 29 frescoes in the gallery tell the history of the city. The keep of the Capitol, one of the oldest buildings in the palace, is now the seat of the tourist office. For 3 centuries, the Capitol Palace has also housed Toulouse's main theater, whose orchestra and ballet have enjoyed a worldwide reputation. The architectural heritage of the district also includes prestigious religious buildings, including the Jacobins Convent, recognizable by its imposing octagonal bell tower in Languedoc Gothic style, and the Notre-Dame de la Daurade basilica with magnificent mosaics covered with gold leaf.
Living in the Capitole district
A central place of life in Toulouse, the Capitole district hosts the city's major events. It is also the most attractive area for tourists. Sparsely populated, it offers a pleasant quality of life thanks to the architectural quality of its buildings, old mansions and neoclassical buildings that house distinctive apartments. The area is the most popular in the city. There are many shops in the area, as are the restaurants, which include the most prestigious tables in Toulouse. Another attraction of the district is the presence of schools from primary school to university. The district's tourist vocation also means that it is very accessible: served by metro A and many bus lines, it also has several self-service bicycle terminals. Matabiau train station is only two metro stops away. Finally, the banks of the Garonne are a place of relaxation and rejuvenating stroll for the inhabitants of the district. On the other side of Pont Neuf and Pont Saint-Pierre is the very pleasant Parc de la Prairie des Filters.